The United Nations Development Programme (UNDP), jointly with the European Union (EU), the United Nations Electoral Assistance Division (EAD) and the United Nations Department of Peacekeeping Operations (DPKO), organised a two-week photo exhibition entitled "The Power of Democracy" through the EC – UNDP Joint Task Force on Electoral Assistance (JTF). The photo exhibition was organized on the occasion of the 73rd session of the United Nations General Assembly and located in the plaza of the UN Headquarters in New York City.
The event was launched on Wednesday 19 September by Mr. Abdoulaye Mar Dieye, Assistant Secretary-General and Director of UNDP's Bureau for Policy and Programme Support, Mr. Craig Jenness, Director of the Electoral Assistance Division of the Department of Political Affairs and a high-representative from the European Union delegation to the UN.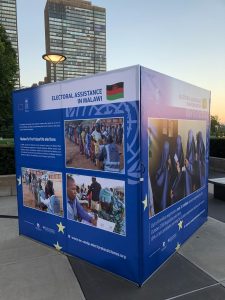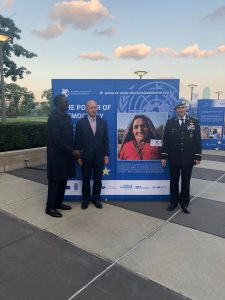 The photo exhibition showcased the key achievements of the UN in the field of electoral support and particularly highlighted an important partnership with the European Union, the largest contributor to UN's electoral assistance projects.
The photo exhibition displayed electoral assistance projects implemented by the UN and its partners in 20 countries worldwide (Afghanistan, Armenia, Burundi, Côte d'Ivoire, Guinea, Haiti, Iraq, Kenya, Lebanon, Liberia, Malawi, Mali, Mozambique, Nepal, Sierra Leone, Solomon Islands, Somalia, Timor-Leste, Zambia, Zimbabwe) and shed the light on projects carried on by the Electoral Assistance Division, the Department of Peacekeeping Operations (DPKO), UN Women, UNOPS and UNV.