"If there is one legacy I want to leave, as minister of Interior and Municipalities, is at least to attempt introducing a quota whether in the parliamentary or municipal elections", declared the Minister of Interior and Municipalities, Mrs. Raya Haffar El Hassan during the "Parliamentary Elections 2022: Electoral Reforms and Gender Equality" conference that took place on 23 May in Beirut.
The conference was organized by the United Nations Development Programme (UNDP) and the European Union Delegation to Lebanon under the patronage of H.E. the Minister of Interior, and was attended by members of the parliament, president of the Supervisory Commission for Elections, ambassadors and representatives from the civil society, amongst others.
The objective of this conference is to bring together relevant national and international stakeholders to discuss the possible ways to kick start the talks on electoral reforms to strengthen the fairness and inclusiveness of the next parliamentary elections.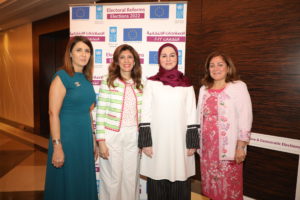 All speakers emphasized the need to increase women's political representation for the next elections in Lebanon, but also to focus on youth and persons with disabilities through more effective legal measures. Indeed, quotas and temporary special measures have been pointed out as effective measures to increase women's participation in elections. Besides, the Lebanese Union of People with Physical Disabilities reminded the participants about the law 2000/200 which ensures the right of the people with disabilities to access polling stations and centers and practice their political and civic right to vote and run for candidacy in dignity. The engagement with civil society organisations has been highlighted by the Ministry in order to increase the participation of voters in the upcoming electoral cycle.
Discussions also included possible technical electoral reforms focusing on the voting and counting processes, such as introducing an "electronic card" where citizens can vote from his/her place of residence.
During the conference, the UNDP Lebanese Elections Assistance Project, presented the "Gender Key Results: Parliamentary Elections 2018" brochure. The publication includes the results and figures of the 2018 Parliamentary Elections from a gender perspective and puts forward recommendations for a national strategy to endorse and implement reforms in the next electoral cycle. The publication is available here.